April 9, 2015
Economic Developers Association of Alberta (EDA) Conference, Kananaskis, Alberta
A partnership between, Alberta Southwest Regional Alliance, Community Futures Alberta Southwest and Community Futures Crowsnest Pass was recognized twice by EDA for their 2014 "Bringing Investment Home" project in the category of Business Investment and Attraction. InnoVisions and Associates worked with the community partners to achieve the excellent results.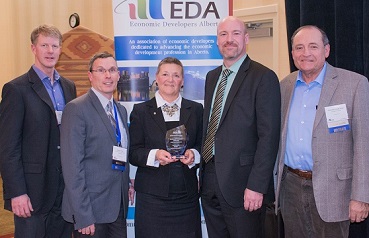 Bringing Home Investment 2014 was recognized for its success as a multi-stakeholder project which achieved measurable positive outcomes in community engagement and capacity-building. It saw a financial investment of $100,000 generate regional business opportunities worth approximately $7,000,000.
The two awards presented to the partner organizations were the 2015 Business and Investment Attraction (BIA) Award for a medium community/region (population from 25,001–100,000), and the 2015 Alex Metcalfe Award which recognizes the top nominee in each of the three award categories for their superior performance and contribution to economic development in economic development in Alberta over the past year. The Alex Metcalfe Award recognizes the "best of the best", the award recipients are those that exhibit excellence in their category.
Some key successes of the project include:
Engaging a broad cross-section of community participants, thus building community leadership capacity;
Supporting networking and problem-solving with economic development professionals in the region;
Meeting with individual businesses to understand needs, research options, provide resources and referrals;
Matching businesses with investment opportunities.
Utilizing expert business consultants, InnoVisions & Associates as a resource to businesses, very effectively creating a "conduit" for information-sharing, needs identification and immediate access to resources and solutions.
James Tessier, Project Manager for the initiative, acknowledges it was the strength of the collaborative partnership that led to the project's success. "Each organization brought their skills and resources to the table leveraging their knowledge and their networks to make this project work". "The project resulted in big wins by providing value and benefit to business and increasing the economic development capacity and the community and the regional level".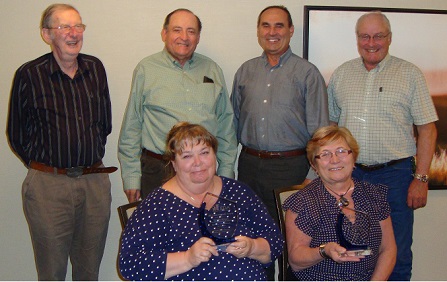 Bev Thornton, Executive Director of AlbertaSW REDA agrees, and also sends a "thank you" to the Chambers, businesses, and municipal representatives who participated. "Such strong volunteer engagement is of incalculable value and represents a critical success factor in this initiative. It took the entire region to make this an award-winning effort."
According to Tessier, "tremendous stakeholder engagement throughout the region was realized with the participation of forty-six representatives from municipal government, business and economic organizations committing time to the project, learning new skills to assist their community, and providing valuable input to move the project forward. The business consultations were a success and matchmaking opportunities were identified, many of which are ongoing as the project now enters its second year".